[ back to previous meetings ]
On Monday 15th August 2003 The legendary Peter Naulls (AKA 'Chocky' ) was the guest speaker at ROUGOL.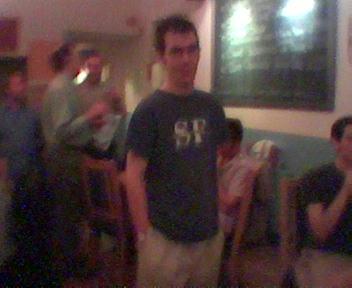 Peter demonstrated a (console) installation of (debian) linux on the Iyonix. The whole process took just 32 minutes, including answering questions from the audience along the way.
It was interesting to note some surprise from the audience at the resource (e.g. memory) requirements of linux, as is so often the case, quite a contrast to the ever efficient RISC OS.
That done, the projector duly arrived and failed to work, so Peter had to continue demonstating to a pub-full of people using just the 17" LCD monitor. Some of the results of the Unix Porting Project were demonstrated, notably Lynx and Xeyes on the Iyonix.
Since the linux userbase is much greater than ours it makes sense to nick their programs and one outcome of this meeting was to demonstrate how dependant we may now become on porting *nix programs.
Peter's site: Chocky.org
UPP News on drobe launchpad: Porting free for all as UPP releases tools
PICTURES (alas taken on a mobile phone):